Una Vacanza tra amici, mare&sole, tango&swing! Sul mare più limpido della Calabria, nella luce della Costa Jonica, fra spiagge sconfinate e monti maestosi, antichi borghi e tesori di archeologia.
una location da incanto per Maestri da eccellenza.
Grand Hotel President – Siderno, Riviera dei Gelsomini (Calabria)
http://tangoeswingamare.com
MAESTRI
Alberto Colombo e Cesira Miceli (Milano- Bologna) Marco Palladino e Lara Carminati (Milano)
Giacomo Bombonato (Torino)
Anna Miceli (Bologna)
Marco Larosa (Swing-Milano)
*****************************************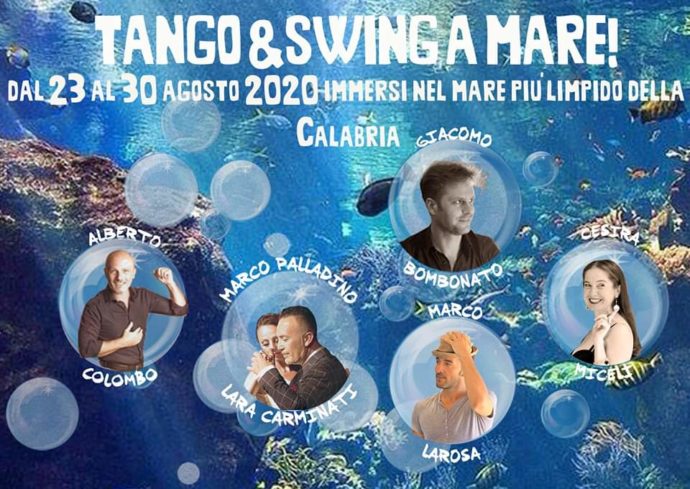 Quote a persona riservata ai nostri gruppi in formula Mezza Pensione tutto compreso, con lezioni e serate incluse.
QUOTAZIONE PER PRENOTAZIONI ENTRO IL 30 APRILE 2020
come "offerta nuova location"
Camera 2 posti letti € 650
(con versamento di caparra effettuato)
La QUOTAZIONE A SEGUIRE, e secondo disponibilità:
riporterà una maggiorazione di circa il 10%
*(Tassa di soggiorno esclusa, da pagare in loco)
GRAND HOTEL PRESIDENT
https://www.grandhotelpresident.com
Grand Hotel President, sulla Riviera dei Gelsomini, per vivere l'emozione dell'immensità.
Qui gli interni, il parco e il paesaggio sono scenario di cerimonie ed eventi esclusivi, da ricordare per sempre.
Con accesso diretto dall'hotel, la spiaggia privata è una distesa di sabbia sconfinata e tranquilla, raggiungibile con un ampio sottopassaggio di 80 m sicuro per grandi e piccini. Gli ombrelloni ben distanziati garantiscono la tua privacy, e il chiosco-bar prepara sfiziosi aperitivi e light lunch in riva al mare. In più, il campo di beach volley e l'area massaggi ti promettono svago e benessere.
Sistemazione mezza pensione: 4 ricche proposte di primo e secondo, contorno a buffet, frutta o dolce, da combinare a piacere e con bevande incluse, in camere da 2 persone con pulizie ogni giorno, lenzuola e biancheria da bagno.
Servizio spiaggia con lido attrezzato, servizio piscina con solarium attrezzato, miniclub con personale specializzato, animazione e Intrattenimento diurni e serali, campo polifunzionale di calcetto, pallavolo, basket, campi da tennis, sala Fitness, Free Wi-Fi.
Possibilità di Percorsi Trekking, nei siti naturali vicini all'Hotel
*****************************************
LEZIONI
* TANGO
12 ore per Livello 1
12 ore per Livello 2
5 ore Primi Passi
**SWING
5 ore per Livello 1
10 ore per Livello 2
+ Possibilità di usufruire di tutte le altre attività organizzate dagli esperti dell'Hotel
SERATE di Tango e di Swing
Ogni sera, dalle h.22,30 in poi, balleremo su due piste separate vista mare:
La Hermanita Dj (Bologna)
+ Tango Dj Giacomo Bombonato (Torino)
+ Swing DJ Marco Larosa
INFO Anna 3389210423
PRENOTAZIONI TRAMITE SITO
http://tangoeswingamare.com
++++++++++++++++++++++++++++++++
TANGO&SWING
23-30 august 2020
A holiday with friends, sea & sun, tango & swing!
On the clearest sea of Calabria, in the light of the Ionian coast, between boundless beaches and majestic mountains, ancient villages and archaeological treasures.
an enchanting location for excellent Masters.
TEACHERS
Alberto Colombo & Cesira Miceli
Marco palladino e Lara Carminati
Giacomo Bombonato
Anna Miceli
Marco Larosa
PRICES FOR RESERVATIONS BEFORE 30 APRIL
(with deposit payment made)
Room for 2 people € 650
QUOTES TO FOLLOW, and according to availability, will report an increase of about 10%
* (Tourist tax excluded, to be paid locally)
GRAND HOTEL PRESIDENT-Siderno
https://www.grandhotelpresident.com
Grand Hotel President, on the Riviera dei Gelsomini, to experience the thrill of immensity.
Here the interiors, the park and the landscape are the setting for exclusive ceremonies and events, to be remembered forever.
With direct access from the hotel, the private beach is a boundless and peaceful stretch of sand, reachable with a large 80 m underpass. The well-spaced umbrellas guarantee your privacy, and the kiosk-bar prepares delicious aperitifs and light lunches by the sea. In addition, the beach volleyball court and the massage area promise you leisure and well-being.
Half board accommodation: 4 rich first and second courses, buffet side dish, fruit or dessert, with drinks included, in rooms for 2 people with daily cleaning, sheets and towels.
Beach service with equipped beach, pool service with equipped solarium, miniclub with specialized staff, day and evening entertainment and entertainment, multipurpose field for five-a-side football, volleyball, basketball, tennis courts, fitness room, free Wi-Fi.
Possibility of Trekking Routes, in the natural sites near the Hotel
LESSONS&ACTIVITIES
Classes will be held every day from Monday to Saturday.
* TANGO
12 hours for Level 1
12 hours for Level 2
5 Hours First Steps
** SWING
5 hours for Level 1
10 hours for Level 2
***** Other activities organized by the experts of the Hotel…
DANCE!!!
Every evening from h.22,30 we'll dance on two separate dance floors on the sea:
La Hermanita Dj
Tango Dj Giacomo Bombonato
Swing Dj Marco Larosa
INFO Anna 338 9210423
RESERVATIONS:
http://tangoeswingamare.com
You may also like this